Introduction
TorkilsTaskSwitcher is a utility, which provides an alternative, replacement or supplement to Windows' Alt-Tab invoked task switcher. Particularly for keyboard enthusiasts.
If you often have many open windows, you may have found yourself doing
Alt-Tab-Tab-Tab-Tab-Tab-Tab-Tab-Tab-Tab-Tab-[release Alt]
or
Alt-Tab-Tab-Tab-Tab-Tab-Tab-Tab-Tab-Tab-Tab-"ooops, I got too far"-BackTab-[release Alt]
to switch between windows/applications.
With TorkilsTaskSwitcher, you can instead use
Win-Tab [shortcut key]
to switch to your favorite applications.
E.g.
"Win-Tab o" to switch to Outlook
"Win-Tab f" to switch to Firefox
"Win-Tab w" to switch to Word
The set of applications - and their associated shortcut keys - is fully configurable, and the traditional Alt-Tab task switcher is still available.
You can choose to use a different shortcut than Win-Tab for activating TorkilsTaskSwitcher.
TorkilsTaskSwitcher also allows you to view a list of currently open windows and switch to any of them.
Screen Dumps
When pressing Win-Tab this GUI is shown. Next just press a shortcut key to switch to the window of one of your favorite applications.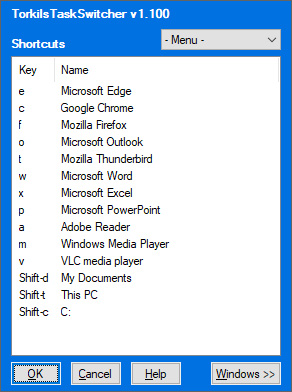 If [Windows >>] is clicked (or Alt-w pressed), then the GUI gets expanded with a list of currently open windows: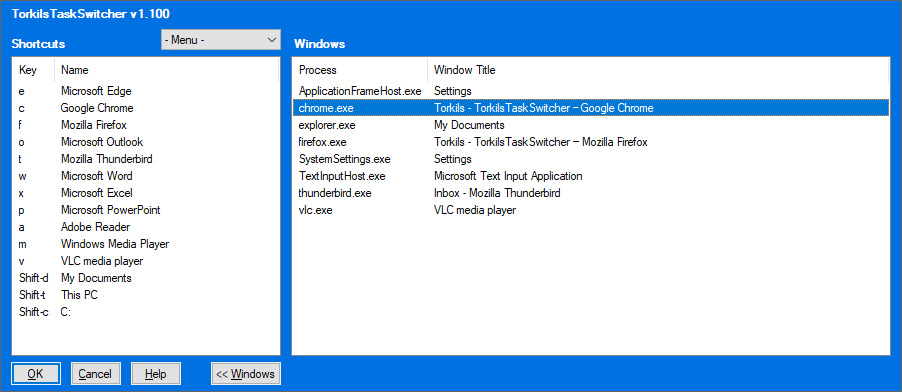 You can then choose to switch to a window, which does not have a preconfigured shortcut. You can also close windows by pressing Delete.
Launch Applications
Each shortcut can optionally be configured such, that if the requested window does not exist then TorkilsTaskSwitcher will start the application for you.

E.g. unaware, that you have not yet started Outlook, you press "Win-Tab o" to read your email. TorkilsTaskSwitcher will then look for the Outlook window, and - when not found - it will start Outlook.
Shortcuts Configuration File
Shortcuts are configured by editing a configuration file with a text editor. So if you are not comfortable with working in a text editor, TorkilsTaskSwitcher may not be the right utility for you.
Storing shortcuts in a configuration file makes it easier to copy shortcut configurations between multiple PCs.
See Shortcut Configuration for further details.
System Requirements
TorkilsTaskSwitcher works on the following operating systems:
Windows 11
Windows 10
Windows 8
Windows 7
Windows Vista
Windows XP
Is it Safe?
TorkilsTaskSwitcher is developed in AHK (AutoHotkey) and some antivirus programs tend to generate false positives for AHK programs.
TorkilsTaskSwitcher has been tested and reviewed by a couple of software download sites:
www.majorgeeks.com has classified TorkilsTaskSwitcher as "TESTED - 100% CLEAN".
With the added note: "TorkilsTaskSwitcher gets several hits on VirusTotal; this is due to the nature of its functions.".


www.softpedia.com has classified TorkilsTaskSwitcher as "100% Clean".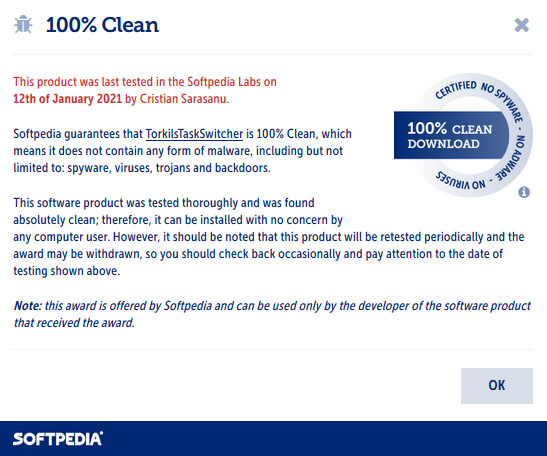 If in doubt of whether TorkilsTaskSwitcher is safe, then try scanning torkilstaskswitcher.exe with your anti-virus program or try uploading torkilstaskswitcher.exe to www.virustotal.com, and judge for yourself.